100% Money Back Guarantee
100% Satisfaction Guarantee Terms and Conditions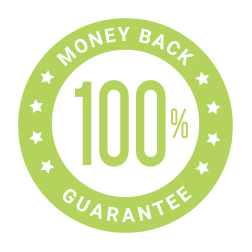 If for any reason you aren't fully satisfied with your printed piece, we will either reprint it or provide a refund, with the following terms and conditions:
Here at Lexis Printing, we are dedicated to providing an Unmatched Customer Experience. If for any reason we fail to meet your expectations, contact us and we will do everything possible to see that we exceed your expectations.
Maximum refund per order or customer is $2999.
And now for the lawyer speak:
The only remedy for problems with orders over $2999 is reprinting of the order to correct product defects. We are reasonable to work with on orders of any size, but the lawyers made us put this in to protect us from possible fraud.
We will work with customers on all orders over $2999 to assess the problem and come to a beneficial solution for all parties involved.
We reserve the right to have you return the original order, at our cost, before reprinting or refunding your order.
Full refund guarantee does not apply to shipping claims. We will reprint orders damaged or lost by USPS, FedEx or UPS.
This guarantee is limited to reprint of the original order quantity or refund of the purchase price of the order. We are not responsible for any damages or claims incurred by you or your business caused by receiving printed materials which are defective or incomplete or which you receive later than the estimated delivery date.
This guarantee does not cover fees for mailing service or postage or associated incidental or consequential damages or claims. LexisPrintingOnline.com/LexisPrinting.com is not liable for U.S. Postal Service errors, including loss or delay.
---